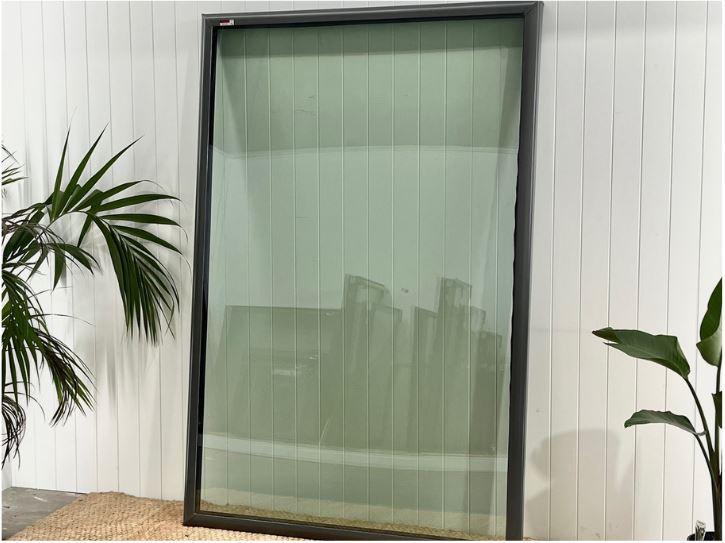 Introducing: The new VELUX FCM skylight range:
The new VELUX FCM Skylight range has now arrived and ready to purchase. Velux have introduced two models into the FCM range that will redefine the way you experience natural light. The FCM 3072 and FCM 4622 need to be seen to be believed, as their sheer size commands attention and their presence is truly felt in any space they grace. VELUX is pushing the boundaries of innovation to bring you skylights that not only brighten your space but also elevate your architectural aspirations.
They're the largest off-the-shelf sizes ever crafted by VELUX. The FCM 4622 is a staggering 2.2 square meters of double-glazed magnificence, and 56% larger than any other Velux skylight on the market. This isn't just a skylight; it's an architectural statement.
Versatility for Every Roof: Flat or Pitched
Both models are engineered to be installed on both flat and pitched roofs, adapting seamlessly to a wide range of architectural styles. Although, unlike FCM sizes, the 4622 & 3042 can only be installed in portrait orientation and Velux reccomends a slight pitch of 3-5 degrees to reduce condensation and water pooling on the glass. 
Product Spec: FCM 4672
Product Spec: FCM 3072
High performance Double Glazing:
The FCM 3072 & 4672 feature double glazing, ensuring optimal performance year round. The glazing make up consists of a Low-e lamininated inner pane (5.36mm), 9mm argon filled spacer bar and a 3mm Low-e outer toughened safety glass. Additionaly, both models are equipped with Velux's trade mark Neat glass coating, which is designed to reduce the cleaning frequency of the outter pane. 
Velux FCM 4672: The cost effective solution to a Custom skylight!
The Velux FCM 4672 stands out as the cost-effective solution for those seeking a custom skylight option. Its competitive price point ensures that you can enjoy the benefits of a tailor-made skylight without exceeding your budget. If you find yourself in the design phase and are contemplating an oversized custom skylight for your upcoming project, consider the FCM 4672 as an alternative. With the Velux FCM 4672, you're investing in a skylight that delivers both affordability and size, making it the smart choice for those seeking a custom solution without compromising on quality or aesthetics.
Weight? Delivery? Will I be able to lift them onto my roof?

These are the most common questions we are answering about these models right now.
Weight: FCM 4672: 72kg | FCM 3072: 60kg 
Delivery: A two person delivery is required to safely transfort the skylights. If you are out of Syd, we are required to provide a shipping quote at time of order. If you are delivering these yourself, we reccomened two people at a minimum. 
Lifing to your roof: At 72kg and 2.2m2 the FCM 4672 lifting this monster skylight to the roof line presents a significant challenge. Our advise would be to arange a crane to do the heavy lifting for you. A crane can lift a pack of skylights in one quick lift or if you time it correctly, the crane can drop each panel onto your custom base flashing one at a time, this will save you from having to handle them once there on the roof. Option two is to manually hand lift each panel, but your going to need a few mates and clear/safe access to the roof, preferably via a scaffold. Unfortunately carrying this model up a ladder will not be an option.  
How to make sure this huge penetration wont leak?
Like any Velux skylight, we always reccomened custom flashings to have the best chance against leaks. The Skylight Warehouse has a custom flashing solution for the new FCM 3072 & 4672 availiable to purchase via our online store, here. We have custom flashings to suit all roof profiles from Corrugated, trimdeck, Klip Lock and Tile. Always remember to use a qualified licensed tradesperson when having works undertaken on your roof, we have a national network of reccomended Velux skylight installers on our data base, if required reach out to the team. 
Made for Australia:
The new models have passed all tests required to comply with the national construction code: 
Heat and UV tested - (approx 70% heat block / 99% UV block)
Water Tested - (AS 4285)
Hail Tested - (ASTM-E822-2009)
Load Tested - (AS 4285) 
Bushfire Tested - BAL 40 (AS 3959)
Safety Tested - AS 1288
 Quotes and more information: 
We provide supply and installation quotes for customers looking to install a Velux skyight into their existing home, we have a purpose built quoting platform QuoteMy Skylight which provides a quote in minutes - FREE QUOTE. 
Alternatively, reach out to one of our team members at sales@shireskylights.com.au or contact 02 9542 8287