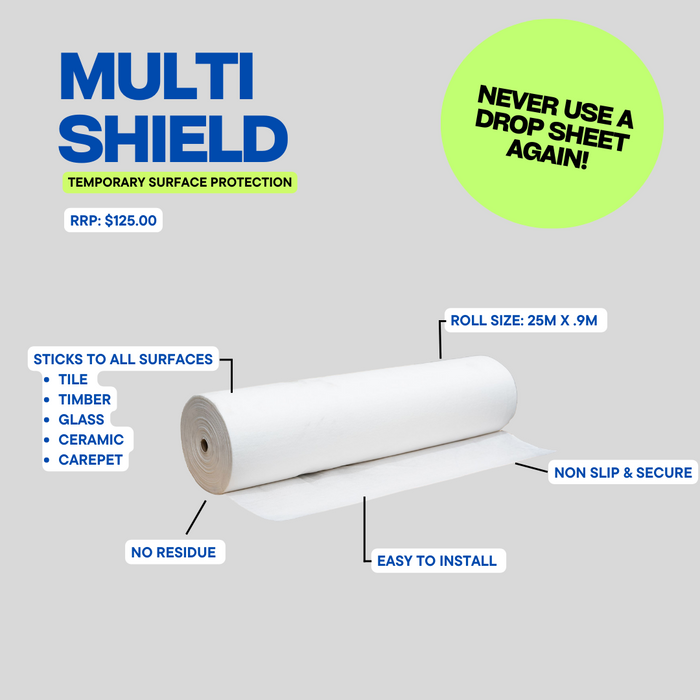 MultiShield - Temporary Surface Protection
MultiShield is a versatile and reliable Temporary Floor Protection, the ultimate solution for safeguarding a wide range of surfaces. Whether you have carpets, timber floors, concrete, glass, kitchen bench tops, laminate, tiles, or ceramics, our product offers the perfect shield against damage, stains, and scratches. Designed with convenience and effectiveness in mind, our Temporary Floor Protection is a must-have for construction sites, renovation projects, or any situation where floor preservation is paramount.
Product Specification:
| | |
| --- | --- |
| Roll Size |  25m (Long) x 900mm (wide |
| Thickness | Approx. 2mm   |
| Colour | White |
| Construction | Non woven fleece in middle, top with PE foil and bottom with anti-slip coating |
| Material | 100% polyester  |
Download a product brochure: MultiShield 
Key Features:
Non-Slip and Secure: Our floor protection ensures a secure environment, especially on stairs, with its non-slip surface. It eliminates the need for tapes or adhesives, making it ideal for construction sites that require frequent repositioning.

Impermeable Barrier: This protective layer acts as a barrier against liquids of all kinds. Whether you're dealing with accidental spills, moisture, or chemicals, our product keeps your floors safe from stains and damage.

Unparalleled Durability: Built to withstand the toughest conditions, our floor protection is extremely robust and tear-resistant. It can endure heavy foot traffic, equipment movement, and other potential sources of wear and tear.

Molt-Free Cleaning: Unlike other temporary floor coverings, our product does not molt or shed fibers when wiped, ensuring a clean and dust-free environment. It helps maintain a professional appearance and prevents the transfer of dirt or particles to your floors.

Easy Installation and Disposal: Our temporary floor protection is designed for hassle-free installation. Simply roll out the floor protection in the required location adhere it to the desired surface by gently applying pressure. When it's time to remove it, the product comes off effortlessly, leaving no residues or adhesive marks behind.

Wipeable and Vacuum-Friendly: You can easily clean our floor protection with a damp cloth or vacuum cleaner. Its smooth surface allows for quick and efficient maintenance, ensuring the cleanliness and longevity of your protected floors.

Residue-Free: Our self-adhesive bottom layer sticks securely to most surfaces without leaving any residue or damage. You can have peace of mind knowing that your floors will remain intact and unharmed after the removal of our product.
Invest in the superior protection of our Temporary Floor Protection and enjoy the confidence of having pristine, unscathed floors. Whether you're a contractor, homeowner, or business owner, our product offers the ideal solution for preserving the integrity and value of your floors. Don't compromise on quality when it comes to safeguarding your surfaces; choose our Temporary Floor Protection today.