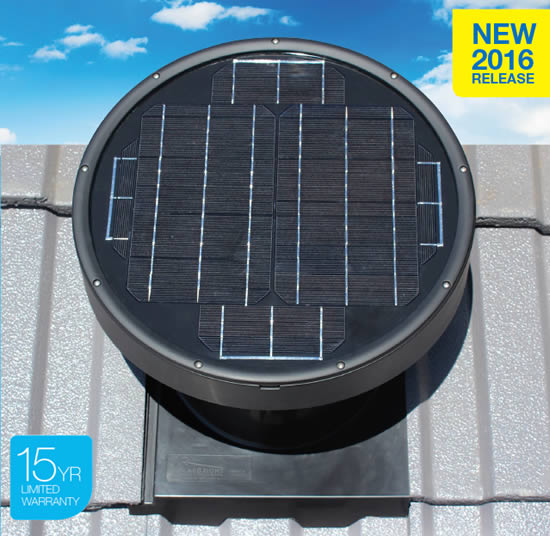 MAXBREEZE Roof Ventilation
Solar Powered Roof Fans are a simple and environmentally sensible solution that can protect your home, roof and even save you money.
Powered completely by free solar energy, our sleek and efficient MaxBreeze roof vent is compact, quiet, powerful & can be rotated to face the sun so it can be installed in any location!
The function of a solar roof fan is to improve air circulation in the roof cavity, reducing heat & moisture build up and resulting in a healthier and more energy efficient home. Solar roof fans can therefore significantly extend the life of your roof, not to mention during summer months, keeping your roof space cooler, resulting in a cooler home and savings on other 'cooling' costs.
The benefits don't stop when the weather cools down, even during winter months, they prevent moisture build-up, keeping the roof space dry and fresh, reducing mould and wood rot.
Our Solar Bright Solar Roof Fan, called the MaxBreeze are the best in their class, with the highest standards for quality and functionality. 
Product Features
Fully assembled product ready for (DIY) Do It Your self-installation.
20 Watt high performance built in

 

Solar Panels.
Durable injection moulded housing, rotatable for maximum performance.
5 polymeric fan blades.
Brushless DC motor, formulated for quieter ventilation.
Leak proof flashing to suit all applications.
Snap-Action type thermostat included in MaxBreeze standard model.
Master controller included in MaxBreeze Combo model.
Master Controller + Storage included in Zephyr model
Product Advantage
Reduces heat & moisture build-up inside the roof cavity.
Reduces energy cost of running air conditioners.
Helps to make home more comfortable.
Protect roof insulation from moisture saturation
Green product uses FREE energy, pays for itself.
No other product can match the features and price.
Smartest Solar roof fan in Australia.
Australian made, designed and owned.
30 minutes easy DIY installation.
Works day & night (with optional battery pack).
Sleek and stylish design with slim pitch.
Leak proof – fits all roofs and all locations.
Suitable For Commercial Use Too
SolarBright 's MaxBreeze Solar Roof Ventilation systems are suitable for all roof types and roof pitches, including concrete tiles, terracotta tile and colorbond metal roofs. MaxBreeze systems can be applied for residential and commercial purposes. These include;
Garages/Workshops
Industrial buildings
Warehouses
Commercial offices.
More Effective Than A Whirlybird
Unlike the traditional whirlybird wind vent, which only work when the wind blows, our MaxBreeze Solar Powered Roof Ventilation, works all day long, even on still and cloudy days. Add the optional Energy Storage Solar Battery (Included in the Zephyr option) and the MaxBreeze will also work around the clock.